The TomTom Spark 3, also called the "TomTom Runner 3," is one of the best wearables for runners, fitness buffs, and those who want a 24/7 tracking of their activity. The successor of the TomTom Spark, the Spark 3 is an updated version of the popular training smartwatch.
Brand: TomTom
Type/Model: Spark 3
Purchase Link: https://www.tomtom.com/en_us/sports/fitness-trackers/gps-fitness-watch-cardio-music-spark3/black-large/  
Size/Specs/Design
The TomTom Spark 3 features a range of firmware and software updates that makes this fitness and tracking device one of the best you can find on the market. We can say this confidently, because despite Polar or Garmin getting most of the love in the wearable market, TomTom's original Spark has received some of the best reviews out there. It was (and the Spark 3 still is) the only dedicated GPS running wearable that allows you to stream music completely detached from your phone.
The great news is, Spark 3 is even better. With the addition of new features while keeping everything you loved about the original Spark, the Spark 3 (also called the Runner 3) looks to be another home run by TomTom. Let's take a comprehensive list at the features of this smartwatch below.
Technical Specifications and Features:
Display: 0.87" x 0.98"

One Button Control

Storage: 3 GB

Dedicated GPS (QuickGPS)

Music Playback (stream without phone): 500+ Song Capacity

Wireless Syncing

Accurate Heart Rate Tracking (Built-in HRM)

5 Heart Rate Training Zones

Automatic Sleep Tracking

Audio Performance Feedback

24/7 Activity Tracking

Multiple Sport Tracking

Compass Sensor

Route Exploration (via Map)

Interval Training

Race Mode

Indoor Training Mode

Multisport Modes

Ability to Upload GPX Files (GPS data file format)

Plenty of Fitness, Health, and Navigation Applications

Battery Life: 11 hours (GPS); up to 3 weeks in activity tracking mode; up to 5 hours with GPS/Heart Rate/Music

Bluetooth Headphones Included

Social Sharing

Water Resistant: 40 meters (5 ATM)
Battery
The battery lifetime varies depending on what you are using and in what combination. For having a dedicated GPS on-board, this TomTom has a pretty decent battery life. Take a look at the following lifetime estimates:
Activity Tracking: Up to 3 Weeks

GPS: Up to 11 Hours

GPS + Heart Rate + Music: Up to 5 Hours
Your watch can be charged via the charging cable included. This is impressive since most smartwatches that have charging ports in them do not have very good water resistance — the Spark 3 is a notable exception.
The Good
There are many positive aspects to the TomTom Spark 3 that makes it an excellent running watch. This model features an accurate built-in heart rate monitor (HRM), so that you can see your heart rate on your wrist at any time, at just a glance. This is great for running, training, and other physical activities.
Along with keeping track of your cardio, the Spark 3 also offers 24/7 activity tracking. This captures everything from your heart rate, the amount of steps you take, minutes that you are active, and calories that you have burned throughout the day. You can connect this information to the Spark App to keep this information and show your progress over time.
In addition to the 24/7 activity tracking and on-board music storage, the Spark 3 offers multisport modes for when you are doing more than running. You can track all types of workouts including swimming, biking, running on the treadmill, going to the gym, cycling indoors, and more. With indoor training mode, route exploration (explained in the "highlights" section), a range of sensors, and the ability to listen to music on-the-go, the Spark 3 offers wearers a lot.
The wireless syncing, customizable range of straps, great water resistance, a range of interval training and race modes, and a great design, this TomTom is worth the price. The design is ultra-slim — you only notice it when you want to — no clunkiness or awkward fits.
If you want, you can also utilize the social sharing features, so you can share your workouts online.
All of this can be done through the touch display and the one-button control. Navigate easily through the menus through a single button. In addition, you will get up to 11 hours of battery life when using your GPS.
The Bad
Since the Spark 3 is fully intended to be a running and training smart wearable, it is unfortunate that the activity tracking still seems to be a secondary feature.
The battery life is around 11 hours when using GPS, which is better than many activity trackers out there, and since this is marketed towards the typical individual rather than mountain climbers or divers, this is a decent battery life. Everyone is still waiting for a longer battery life for smartwatches when it comes to powering GPS.
Functionality
The functionality of the TomTom Spark 3 is pretty incredible and it is clear that TomTom created a great product with quality materials and well thought-out software and hardware.
The 40 meter (130 feet) / 5 ATM waterproofing means you can swim with this tracker on and not worry about ruining it. The silicon straps are interchangeable and customizable and can weather water and sweat and grime.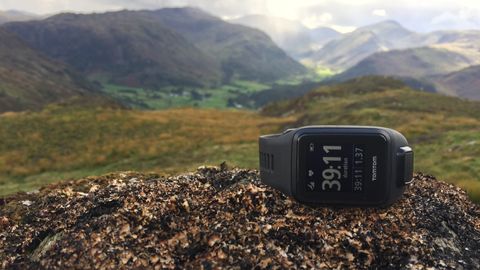 You can do everything from tell the time to connecting to GPS and seeing your live activity stats at any time. The processing speeds are good and with QuickGPS, the watch connects quickly so you can get your workout started fast.
With a durable construction and a range of great features, the TomTom Spark 3 is highly recommended for runners, swimmers, and anyone who wants to keep track of their activities and heart rate 24/7. Go exploring using the Route Exploration feature or stick to a route — listen to music wirelessly and without your phone on you — this smart fitness watch can do it all.
Compatible Phones:
Apple — all iPhones with iOS 8 and above

Android

Samsung: S7, S7 Edge, S6, S6 Edge, S5, S5 Mini, S5 Plus, S4, S4 Mini, A3, A5, Note 3, Note 4, J5

LG: G4

Nexus: 5, 5X, 6

HTC: One M8 and M9

Sony: Xperia Z3, Z3 Compact, Z5, Z5 Compact

OnePlus One

Huawei: P8, P8 Lite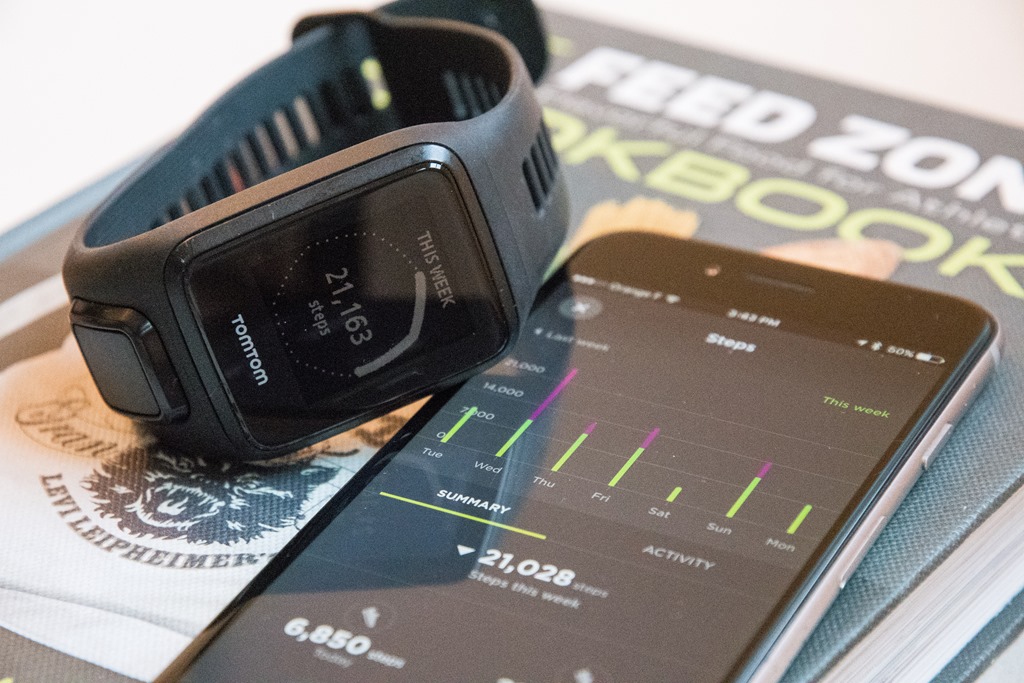 Highlights
TomTom's original Spark watch was the only wearable with a dedicated GPS — thankfully, the Spark 3 has kept this edge over the competition and has even improved it. With GPS tracking, you can keep track of: time, distance, routes, speed, pace, and more. Not only can you see this information displayed live while you are on-the-go, but you can check out your stats anytime after as well.
With the QuickGPS feature, you can get started with your workout quicker. No waiting around for GPS reception forever — you can get the signal sooner and get moving.
Everybody loves to listen to motivating music as they work out. Personally, the right music track keeps me going and boosts my energy and motivation when I work out. With the Spark 3, you can do all of the activities you want from running to other types of exercise and adventures without the need for your smartphone. The Spark 3 can hold over 500 songs via it's 3 GB of music storage space. As an added perk, this TomTom smart watch includes bluetooth headphones.
The Spark 3 also features what is called "Route Exploration," which, using the built-in compass sensor, allows you to freestyle so to speak, and find your way back to the start or explore new routes. This is a great upgrade from the original Spark and a useful piece of software. You can view your location via the on-screen map and make your way along new areas while tracking your progress.
This TomTom is also water resistant to 40 meters (5 ATM). This means you can go swimming and work out in any weather condition. This frees you to live your life and work out the way you want and know that your wearable will weather it all well.
Pricing
For a running / fitness watch that is competing with brands like Garmin and Polar in the wearable tech market, the Spark 3 by TomTom is respectably priced. Retailing for $249.99, TomTom has slashed the price down on their website to only $229.99, which is less expensive than most other wearables in this category.
Purchase Link (TomTom): https://www.tomtom.com/en_us/sports/fitness-trackers/gps-fitness-watch-cardio-music-spark3/black-large/
However, you can buy the Spark 3 nearly anywhere else for $149.99 — so do your price-checking online first. These do not likely include the wireless headphones, but it is certainly a better price.
Read Next
The ZTE Quartz — The ZTE Company's First Android Wear Watch
The "Gameband," the First Smartwatch for Gamers
How to Use Android Pay on an Android Wear Smartwatch: A Guide
Everything You Need to Know About the Android Wear 2.0 Release
The Alpina Horological Smartwatch: Review
The Casio WSD-F20 Smart Outdoor Watch (Pro Trek Smart Series): Review