Kickstarter is a great place — you can donate money in order to help people; invest in cool, new projects; and you can find the latest in unique technology. If you don't care for regular smartwatches or hybrid smartwatches, and you want something a bit different to put on your wrist to entertain you, then take a look at this review of the Gameband — the first smartwatch made for gamers.
With 800 backers having already pledged nearly $130,000 (well over the $75,000 goal), the Gameband is going to make gamers and novices alike, very happy.
Gameband
The Gameband is a powerful wearable that features a built-in, upgradeable microSD drive, exclusive content, and gaming design. This watch was designed and built for people who love to game and want something unique and fun for on-the-go gaming and entertainment.
With one of the fastest wearable processors being used today, a crisp AMOLED display, Bluetooth 4.2, Wi-Fi, and a proprietary Android OS made by Gameband themselves for this one-of-a-kind smartwatch, this new wearable has a range of productivity apps.
One of the great aspects of this watch is that it features an upgradable microSD card, so that your high-speed gaming drive can also host your music, photos, files, contacts, and more.
Gameband has made sure that their software and unique IC switch will give users flexibility. In English, this means that when you plug the microSD chip into a computer, the chip will run Gameband's "PixelFurnace" game management and launch platform at USB 3.0 speeds! When you connect the microSD via the Bluetooth 4.2, data can be accessed via audio devices or your smartphone or mobile device.
Atari
What I'm hyped up the most about the Gameband is that the legendary Atari company, who brought us gaming inside of our living rooms for the first time, is working with Gameband. They are rewriting some of the your favorite games and classics such as Pong, Asteroids, and Centipede for Gameband's 1:1 ratio, 1.63 inch display — this includes flush glass format for swiping motions.
The Gameband Atari Edition model comes in the famous Atari Red color with a range of straps to choose from. Mini games will be included as stretch goals and Gameband will be asking for users' help and their input in deciding what titles to chose.
Terraria
Terraria is an incredible indie game title and the other launch partner Gameband is working with. With some of the most well-known gaming images and design elements, this partnership will offer an exclusive mini-game version that will only be found in this watch.
In addition, they are incorporating technology and context of Gameband together into a product that you can "take into the real-world and your daily life."
There are special editions and mini-games available. With Atari and Terraria as partners, you will get top name brands on your wrist and amazing games and gameplay in this gamer's smartwatch.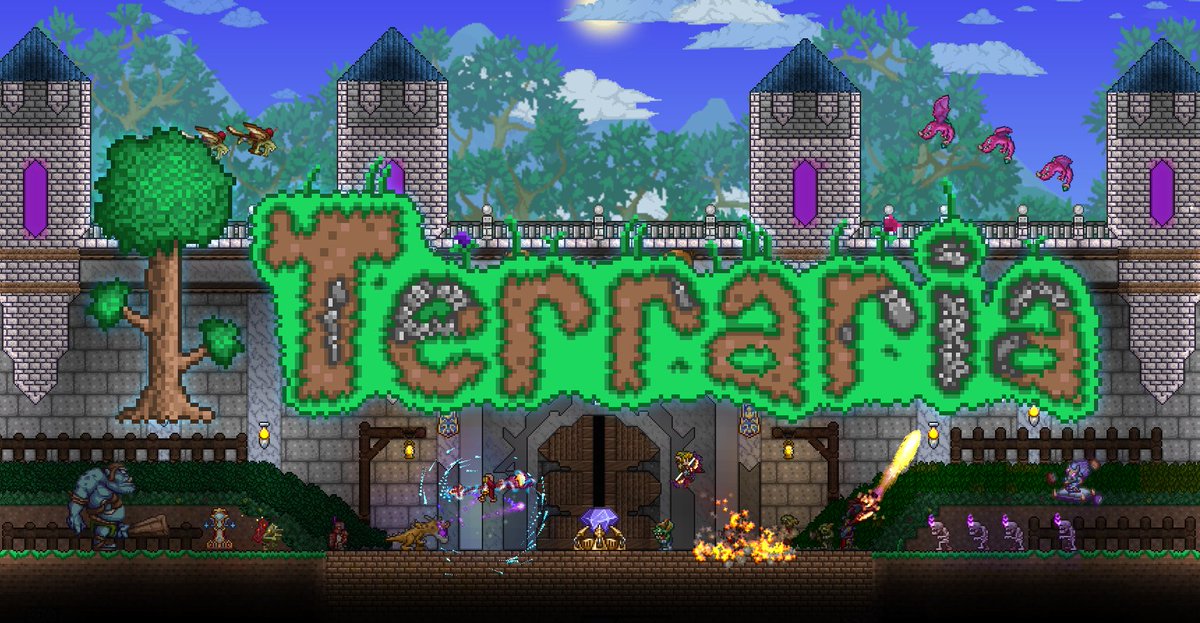 The Design
We can all thank Matter Global, a San Francisco design studio, for the design of the Gameband. Having worked on projects with Google, Sonos, Samsung, and Logitech, the Chief designer, named Max Burton, has been involved in nearly 100 wearable projects from smartwatches to luxury timepieces, to the Gameband.
There were design aspects that had to be met in order for Gameband to meet the satisfaction of the creators. Robustness, the ability for users to be able to use this piece as a watch, flexibility in the software and hardware, the ability to create special editions without complicating the manufacturing process, and a rugged exterior that would match the experience of gaming.
The result of the design process was a two-piece frame which is held together by screws — with design and functionality in mind, this Gameband can withstand the toughness of everyday life, be used as a smartwatch and timepiece, and will offer seriously cool and exclusive games.
Hardware
Gameband uses one of the fastest processors being used in wearables today: the Qualcomm Snapdragon Wear 2100. With sensors for intuitive motion detection, a 1.6" square, glass AMOLED display, crispy 320 x 320 pixel resolution, Wi-Fi, BT 4.2, a 400 mAH battery, plenty of storage, and a MicroSD slot, this watch has everything you need for a fully functional smartwatch with traditional timekeeping features, smartwatch features (such as a call dialer, calendars, music), and a unique gaming experience nobody else is offering.
Software
The Gameband will be using Android Marshmallow 6.0.1 software. In addition to basic Android operations, there will be pre-loaded apps in this device and access to iOS and Android phone-based companion applications.
With the PixelFurnace Gaming Platform Launcher and Alexa Voice AI, this watch will also include general productivity app use for: music playing, calendar, alarms, contacts, phone dialer, digital timekeeping, the weather, etc…
Technical Specifications:
Display: 1.6" AMOLED

Pixelation: 320 x 320

Display Shape: Square

Processor: Qualcomm Snapdragon Wear 2100

Software: Android Marshmallow 6.0.1

512 MB RAM

4 GB ROM (EMMC)

Sensors: 3-axis Accelerometer / Gyro Sensor / Light Sensor

Wi-Fi 802.11 b/g/n Dual Band

Bluetooth 4.2

Battery: 400 mAh

MicroSD Slot + USB Type-C
Features:
Voice Control (Alexa) – Voice AI

PixelFurnace Gaming Platform Launcher

Mini-Game Operation

Basic Android Operation

General Productivity App Use (Music Player, Calendar, Alarm, Contacts, Phone Dialer, Timekeeping, Weather)

Bluetooth 4.2 Audio

Companion App Capability

Backup and Other Backend Services

Pre-Loaded Apps

Access to iOS and Android Phone-based Companion Apps

More Watchfaces Coming Soon

PC App for Creating and Sharing your own Watchfaces Coming Soon
PixelFurnace and Built-in Drive
The microSD used in the Gameband extends what the wearer is able to do with this watch.
With it, users can:
Play full PC versions of games directly from Gameband on any computer using PixelFurnace

Wirelessly place music on audio devices

Store and access photos and files
The ability to use PixelFurnace (Gameband's proprietary game management and launch platform) to play full PC versions of games on any computer by simply plugging in a microSD slot into a computer using a microSD/USB wire, is incredible.
Think of PixelFurnace like "iTunes" but for games. You can take it with you anywhere, plug it in anywhere, and play on your Gameband or PC/laptop anytime.
Note that for investors backing this project on Kickstarter, those that pledge money for a MicroSD card will receive a pre-load PixelFurnace on the MicroSD when you receive your watch. In addition, Gameband will include one year of free backup on their secure servers.
Less is More and Better for Gaming
Gameband made a great decision in terms of what to include (and what not to include) in this smartwatch. As opposed to trying to fit in their unique gaming platform inside of a smartwatch will a ton of components and features, they kept their eye on the ball and made this watch with a main goal in mind, and then once accomplished, added some secondary features for a well rounded watch.
For example, they chose core components that are essential to what Gameband is designed for: gaming via a wearable device. However, they added a dialer, calendar, music, and digital clock to the platform, so that when you are gaming, you can still tell the time. Also, when you are not gaming, you can wear this watch as a timepiece with call capability, music capabilities, a calendar for your to-do list, and keeping the time in style. The gaming platform will always be a tap away.
This approach to not packing in a ton of needless smartwatch features also has its benefits from a technical point of view. One of the great aspects of using the Snapdragon Wear 2100 processor is that it has already been designed and created for microSD support for wearables, so this takes away the risk of trying to design something new during the development of the Gameband — this is a processor that has already been proven to be fast, reliable, and functional.
Less component parts means:
More space — this makes it possible to put in a larger lasting battery and microSD slot.

A more affordable product

An increased budget to use for the best processor and display options

Less manufacturing and better quality
The addition of Bluetooth 4.2 may seem excessive for some who worry about battery drain, but it's actually a brilliant features. Bluetooth 4.2 is the much better option for great audio. Since this device is intended for gaming (and includes a built-in app for listening to music), this is a home run feature.
Mini Games
Gameband uses movement, gestures, voice, steps, location, and other real-life aspects of the user's movements and actions to make this watch work for a unique gaming experience.
So far, they will be launching the following mini-games with Gameband — and more will be added as they meet additional stretch goals (this means that the more money that is invested from people like you, the more games can be added as they reach additional monetary milestones).
Asteroids

Breakout

Pong

Centipede

Crystal Castles
Take a look at the following video for a more complete look at the Gameband:
Funding/Investment Opportunity for the Gameband will end on March 17, 2017. You can back this project and invest in your own Gameband at their Kickstarter: https://www.kickstarter.com/projects/717828519/gameband-the-first-smartwatch-for-gamers.
Read Next
How to Use Android Pay on an Android Wear Smartwatch: A Guide
Everything You Need to Know About the Android Wear 2.0 Release
The Alpina Horological Smartwatch: Review
Google's Next Pair of Flagship Smartwatches will Have a Digital Crown
The Casio WSD-F20 Smart Outdoor Watch (Pro Trek Smart Series): Review