While Google has kept quiet as of the release date for Android Wear 2.0, it is nearly guaranteed to be released to the public on February 9th, 2017. Google's new flagship smartwatches, the LG Watch Sport and LG Watch Style will be released on the 9th of February, and this pair of smartwatches will feature Android Wear 2.0 technology.
The new wearable OS has some cool features including support for third-party applications, standalone apps, and design tweaks.
What Devices Can You Get Android Wear 2.0 On?
First off, unfortunately, not all smartwatches will be eligible for upgrade to 2.0. The LG G Watch (which is the original of the series) as well as the first-generation Moto 360 smartwatch, will not be receiving the new 2.0 firmware. This just means that some of the older smartwatches will miss out on the newer OS upgrades, which is common in smartphones.
However, it is not necessarily clear yet whether other smartwatches will be able to upgrade, either. Samsung has been staying quiet as to whether the Samsung Gear Live will be destined for Android Wear 2.0.
So, far, here is a list of smartwatches that have been confirmed to be receiving the 2.0 upgrade:
– Asus: Asus ZenWatch, Asus Zenwatch 2
– Casio: Casio WSD-F10
– Fossil: Fossil Q Wander, Fossil Q Founder, Fossil Q Marshal
– LG: LG G Watch R, LG G Watch, Urbane (1st Gen), LG G Watch Urbane (2nd Gen)
– Huawei: Huawei Watch, Huawei Watch Ladies
– Michael Kors: Access Bradshaw Smartwatch
– Nixon: Nixon Mission
– Polar: Polar M600
– Sony: Sony Smartwatch 3
More smartwatches than the ones listed will receive the 2.0 upgrade, but for now, these are the confirmed models. Remember, many new smartwatches already have Android Wear 2.0 and will be released with it so these models are not on the list (for example, the Casio WSD-F20).
For example, TAG Heuer, ZTE, and New Balance have announced that they will bring Wear 2.0 devices to market in the coming months, but since their wearables are not yet made, they obviously do not make the list.
*See the end of this article for instructions on how to download the Android Wear 2.0 upgrade, including the 2.0 Developer Preview*
There will be differences that many smartwatch users will love in the 2.0 upgrade, and don't be surprised if there are a few glitches and bugs at first.
Addition of Complications
One of the features of the new Android Wear 2.0 is the addition of complications. While this feature is available already on the Apple Watch 2, it is a feature that Wear users have been waiting for. A complication is a feature on the face of a watch that offers information beyond that of hours and minutes. This is exciting that the 2.0 version will add support for third-party complications — for those who want a great watch face design and the option for more information at a glance, this is a great feature.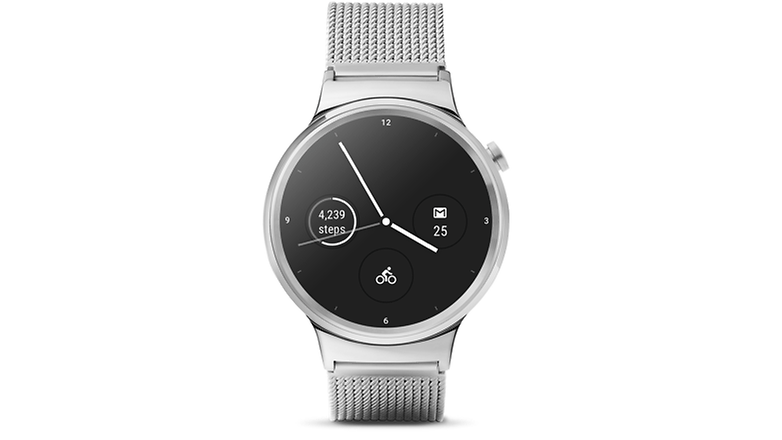 Android Wear on iOS
For many users, this upgrade is important if one owns an iOS device. The Android Wear / iOS experience will be improved beyond the current basic setup. iPhone users can expect their Google-powered smartwatch that is running an updated OS to function much better.
The Developer Preview shows the inclusion of iOS support, which means that developers can create their own standalone applications that iPhone users will be able to download directly from the smartwatch's onboard Play Store. Currently, iPhone users are only able to tap into notifications and pre-loaded Google app package. Even Android users had to use their handsets to download and sync apps.
All of this is looking to change with the 2.0. Developers can create their apps, mark them as "standalone friendly" and they will show up in the new wrist-based Play Store.
Notifications and automatic activity tracking have also been improved for iPhone users.
Direct Watch Face Integrations
Once the Android Wear 2.0 is available, developers everywhere will start creating smartwatch faces that can feed off of data from apps like Fitbit, Spotify, etc…which will allow health and fitness, or music data to be integrated right onto the face. Cool, right?
Notifications
As far as notifications are concerned, Google overhauled the way your smartwatch notifications will work. Right now, notifications take up the whole screen, which is overwhelming and can sometimes run off the page. With the Android Wear 2.0, you will receive a more readable layout as well as small icons that can be tapped in order to open into an expanded notification.
Health and Fitness
Health and fitness trackers are more popular than ever and Google knows that in order to keep their smartwatches selling that they must incorporate more or better health features into their firmware.
Google is introducing automatic activity recognition, which is a feature on rival wearables like Withings Activite. What this means is that if you begin to walk, cycle, run, exercise, etc…the Android Wear 2.0 will automatically launch a tracker app so that you can keep an eye on your progress with ease.
Input Features
There will be three large changes to the input features with 2.0. The first being that you will be getting a small keyboard that works with swiping, just like on Android firmware on smartphones. You can use smart replies as well – which many of you are familiar with as well on Android smartphone devices. Finally, Google will allow developers to create third-party keyboards for wearers to use.
Standalone Applications
One of the more anticipated aspects of Android Wear 2.0 is that Android Wear applications can work independently of smartphone applications — this means that an application can fully function on your smartwatch even if your smartphone is nowhere near you.
For the specifically-designed apps, you can work them natively without tethering to a smartphone. In addition, the 2.0 will optimize the available network bandwidth for standalone applications in order to save battery life.
Navigation Drawer Feature
One of the new features is a 'navigation drawer feature.' This will allow you to "flip a flag to toggle to a single-page, icon-only action drawer," which will offer quicker navigation to different views inside of applications, as well as offer support for NFC Host Card Emulation to open up Android Pay support on supported smartwatch devices.
Other UI Redesign Features
In addition to Wear 2.0's redesigns and changes to input, standalone apps, activity tracking, and notifications, Google's Material Design standards are more prominent in this upgrade. You will see a difference with the menus, ease of selecting new watch faces, and icons.
How to Download Android Wear 2.0
When your device is ready for the upgrade, it will automatically offer you the option, so you won't have to go looking for it.
Developer Preview Download
If you are desperate to get your hands on the Developer Preview of Android Wear 2.0 (before the public release), you can follow Google's guide on how to do it (see below):
Guide: https://developer.android.com/wear/preview/downloads.html
1. Back up your data!
Before installing your new 2.0 software, be sure to back up all of your data — this data will be removed when installing the new system image.
2. Download the new preview image in order to flash your smartwatch
Android offers a step-by-step guide on how to flash your device here: https://developer.android.com/wear/preview/downloads.html#set_up_a_watch
3. Download and install the Android version of the companion app on your smartphone
At the Play Store on your phone, head to the Android Wear app listing. Tap "update" to download and install the new application.
4. Pair the phone to your watch
This is easy enough. On your phone, select your watch device name and pair the devices using the pairing code as you normally would. Once the pairing is confirmed, choose a Google Account in order to sync to your watch before following the instructions in the wizard to finish the process.
5. Install and run the application on your smartwatch
Finally, open your app in Android Studio, select your Wear app module name from the Run/Debug config drop down menu, and click "Play" before selecting your device — then install the app.
And that's it!
Android Wear 2.0 Developer Preview:
Preview of 2.0 Developer: https://developer.android.com/wear/preview/index.html
Read Next
Google's Next Pair of Flagship Smartwatches will Have a Digital Crown
Major Update for the Samsung Gear S3 Frontier (U.K.)
Misfit Vapor Smartwatch: Review
The Casio WSD-F20 Smart Outdoor Watch (Pro Trek Smart Series): Review
Best Smartwatches from CES 2017
Moskito: A Smartwatch for Cyclists