CES 2017 showcased some incredible new wearables in Las Vegas — this includes our recently reviewed Casio WSD-F20 outdoor sports smartwatch. From Android Wear, sports watches, traditional brands featuring smart watches, and completely new smartwatch platforms being unveiled, CES 2017 had some great releases for both tech-lovers and the fashion-inclined.
Garmin Fenix 5 Series
The Fenix series smartwatches by Garmin have been around for some years now and are the go-to for athletes, fitness buffs, and adventurers looking to keep track of their busy lives. The new Fenix 5 series smartwatch will come in three different designs: the 47mm Fenix 5, the 42mm Fenix 5S, and the 51mm Fenix 5X.
The 47mm Fenix 5 boasts superior technology and will actually offer 24 hour battery life while in GPS model. The 42mm Fenix 5S is a smaller case model marketed at women or those with smaller wrists who are seeking adventure. Finally, the Fenix 5X has an oversized 51mm case and will come with pre-loaded maps and even has a Sapphire lens and will feature Wi-Fi.
Each of these three models are all waterproof up to 100 meters, features a three-axis compass, a gyroscope, barometric altimeter, and features GPS and GLONASS connectivity.
These models are on track to go on sale at an undetermined time, early in the 2017 year, and will start at around $500, which is a competitive price compared to the Casio WSD-F20 models.
Misfit Vapor
We wrote an article some time ago about Misfit coming onto the market with the Phase Hybrid smartwatch. READ: The Casio WSD-F20 Smart Outdoor Watch (Pro Trek Smart Series): Review. However, Misfit has come a long way and is now a veteran in the world of wearable technology. Now owned by Fossil Group (AX of the AX Connected smartwatch is also owned by Fossil as well), the Vapor is the first full-smartwatch by Misfit.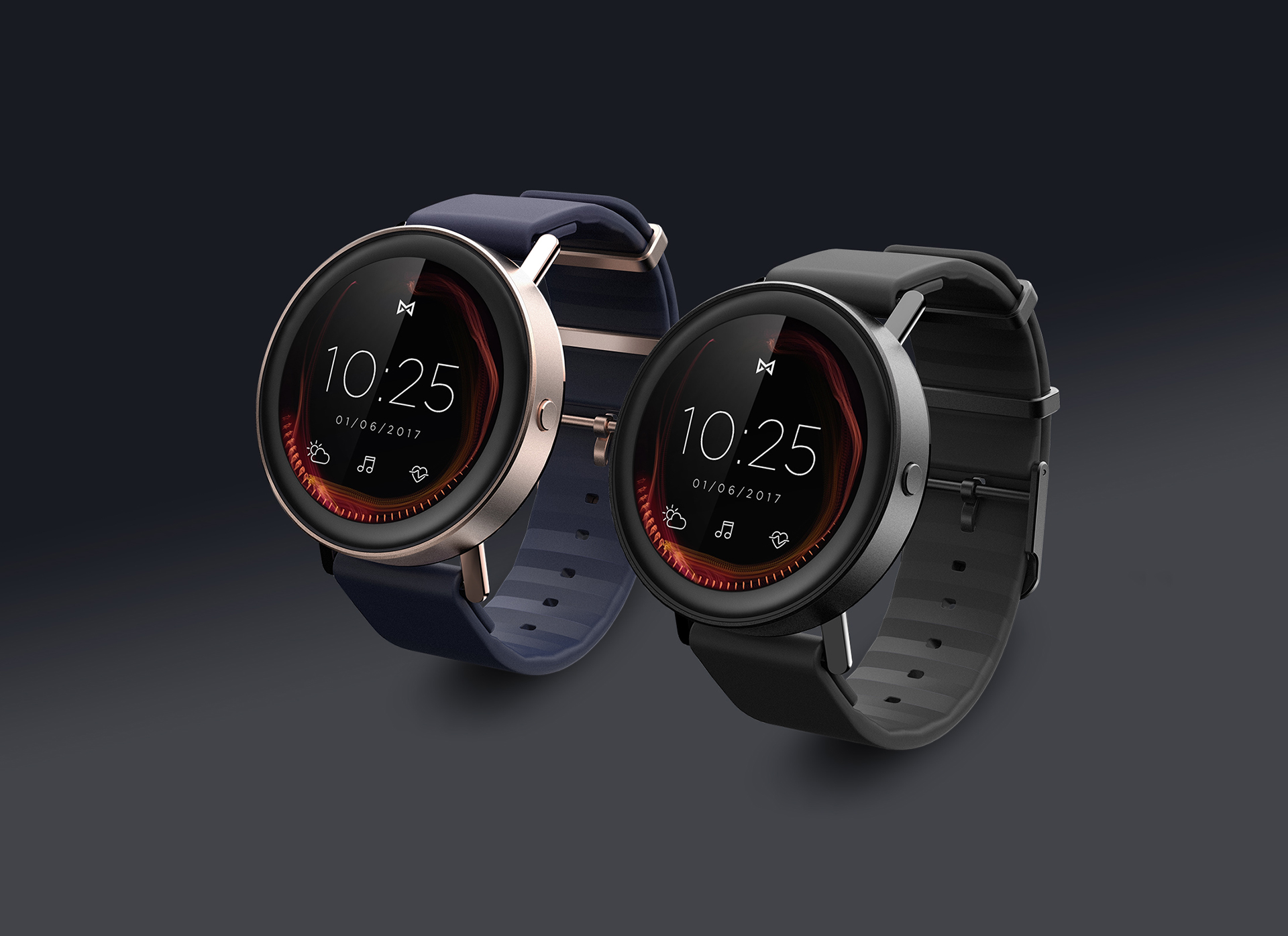 With a 1.39 inch circular OLED display screen with a 326 ppi pixelation density, this watch is different in that it looks and functions better than many Android Wear smartwatches — especially the screen. Even better, Misfit isn't using Android Wear at all. They have opted to use their own OS, which features a bezel-based control system (similar to the Samsung Gear and Gear S2), that will allow the user to browse apps, watch faces, respond to notifications, and more.
The processor is going to be Snapdragon Wear 2100 but it is unknown at time if any apps will be made available for this device. This makes sense since the release date is not expected until later in 2017. However, a price of only $199 has been given by Misfit for their new wearable, which is pretty competitive in the current market.
Casio WSD-F20
The $500 Casio WSD-F20 features what Casio's first smart wearable lacked — a GPS, as well as a dual layer display (monochrome LED and multi-color display), Android Wear functions, 50 meter waterproofing, and military certified 810G construction for ruggedness.
This watch looks a bit more like their G-Shock series rather than a sleek smartwatch and while this model has its issues and is priced somewhat high, it was an interesting release by Casio and is showing progress with this well known brand.
You can read the full review of the Casio WSD-F20 at the link.
AX Connected
While the price is still being figured out by the company despite their intended release date of February, 2017, the Armani Exchange Connected is the first hybrid smartwatch by this manufacturer. With four colors to choose from: white, blue, black, and orange, the AX Connected offers much of what typical smartwatches can: activity tracking, sleep tracking, smartphone notifications, as well as music playback control and a camera to take selfies.
The small dial on this hybrid looks like a traditional subdial but actually is a gauge that displays your progress for your daily activity goal. This cross between a traditional timepiece and smart tech, the AX Connect is both stylish and offers basic technology for those looking for something more sophisticated and and traditional.
Read Next
The Casio WSD-F20 Smart Outdoor Watch (Pro Trek Smart Series): Review
Moskito: A Smartwatch for Cyclists
Chronos Watch Smart Disc: Make Any Timepiece a Piece of Smart Tech
ASUS Zenwatch 3: A Full Comprehensive Review